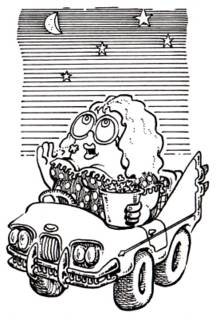 Doctor Pam's arrival found the weather trying to make amends for its former behaviour, but the prospect for the Hoppings still looked poor.
My Gardeners' World aspirations got the better of me on Friday afternoon and we tootled off to a garden centre in
Birtley,
Thing about garden centre stuff is that it tends to be very heavy, so the availability of Doctor Pam's car enabled me to hammer the plastic on all sorts of stuff.
I got:
* two really nice big blue earthenware planters,
* one bird table (sans pole to support it),
* one huge bamboo pole (which might support the bird table or get a rose up it),
* two lots of dianthus (
Corona Cherry Magic
) for the gaps in the tubs at the front door),
* one pack seed and insect suet feast (for wild birds),
* one pack berry treat feast (for wild birds),
* one "Seven Friendly Men" garden decoration.
The last is interesting. As you may remember, my intention on the garden decoration front, is to make various ludicrous objects from some kind of All Bran & Concrete Secret Recipe (when I find it - still looking).
But I couldn't resist this
Seven Friendly Men
thing (there was a bigger one called "Five Friendly Men"). There were quite a lot of them, so they were cheap, but they were obviously hand-made. There are seven men standing in a circle, looking in over, their arms round each other's shoulders. Their faces have a curious Inuit look to them. In the centre is a small bowl. (Wonder if
Marja-Leena
has come across anything like this?)
Anyway, whatever their origin, they look really cool standing in the middle of the lawn. I try not to think they may be pissing into the bowl.
Doctor Pam reckons she's never been to a garden centre before. It was, therefore, a revelation to her how much fun you can have there (including the wealth of wonderful
real
food available at the farm shop) without feeling you've fallen too deeply into the shocking ways of the Middle Classes.