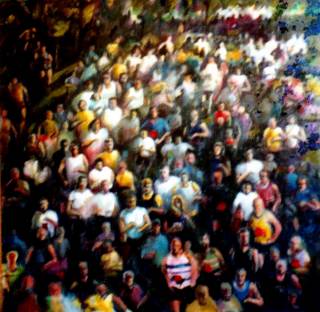 Great North Run (oil on canvas, 48 x 48 ins)

Not a good photograph, but....
I do like living with my paintings. There's no-one to object, so I now have my pictures standing about in the living room, leaning against the furniture, quite regularly. As I regard them as my children, I suppose that's not too strange.
But I don't do it because I have an over-inflated opinion of them. On the contrary, I keep them there to remind me of where I've been going wrong, or how I might improve.
Don't get the idea that Stately Zip Mansion is something of an art gallery. I wish there were more walls to hang things on , but a great deal of my wall-space is taken up with book shelves. (Not as much as the Frootbat's, perhaps, but then I don't spend as much time in the loo as he evidently does -
seven
shelves of books? Come on!) What space I have is given over to etchings and paintings by people I appreciate and one or two I can barely afford. Would that I had the space and the money ....
Today turned the place into rather more of a gallery than normal, however.
I've been examining the pictures I got back from the
Biscuit Factory
last week. I need to decide how much work will be required to repair the scratches on
each
and
every
frame (OK, so they're proud that they're a "shop" and not a "gallery" - is this how you treat your merchandise?). In addition, several of the
Balconies of Crete
series are still standing about, mourning the loss of one of their number to the avaricious (but kindly) True Rat.
For some reason, I've not yet tired of looking at two of the pictures I sent to the
Royal Scottish Academy
Summer Exhibition. They tired of them
instantly
, but I keep thinking there's another series to be followed up, if only I can *grasp* it.
And then Dismal D phoned to say he wanted to bring back the paintings which didn't sell in London last month. And so he did, though it took three phone calls for him to find me again, the third from just outside the door to ask what number I live at (you'd think he'd be able to recognise the imposing gates....).
So now I have another four pictures in the living room. And one of them is the four foot square
Great North Run
, shown above.
I had very little time to get used to this one - it was whisked off to London almost before the paint was dry - so I began to have my doubts about it. Now it's here again, I can get to know it better. We can become friends.
And then I'll think about giving it a little brother or sister.